product, true, false
Aqua-Bound Manta Ray Hybrid 2-Pc Posi-Lok - Sea Kayak Paddle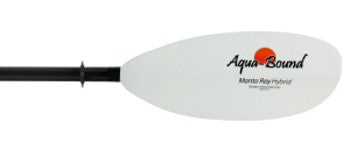 Aqua-Bound Manta Ray Hybrid 2-Pc Posi-Lok - Sea Kayak Paddle
Introduction
The Manta Ray is the largest of Aqua-Bound's touring blades, and it has a modern style (not "low angle") sea kayak paddle blade. The Hybrid model is one of the lightest paddles with injection molded blades and the blades are good and stiff. The overall weight of the Hybrid Manta Ray is lighter than most all fiberglass paddles, and yet the injection molded plastic blades are much tougher and more durable than glass blades. The size of the Manta Ray's blade is perfect for most people from 135 - 225lbs.
WARNING: This product can expose you to chemicals including Polyvinal Chloride and Besphenol-A (BPA), which are known to the State of California to cause cancer and birth defects or other reproductive harm. More about California Prop. 65
Description
In general, short, wide blades like the Manta Ray's are more forgiving (less prone to diving) than long, narrow blades (i.e. as on "low angle" paddles). This makes paddles like the Manta Ray easier to use when learning rolling, sculling and other combination strokes such as for leaned turns. These paddles are especially popular with advanced paddlers because the rougher the conditions you paddle in, the more you need to use strokes where short wide blades shine. When you are trying to spin your kayak around between wave crests in surf or high winds, you can really feel the difference that a forgiving blade makes. For recreational kayakers, the advantages of short wide blades may not be as noticeable as when rolling etc., but the benefits are still there.
The lighter a paddle is, the less fatiguing it is to use. For most sea kayakers, the Hybrid Manta Ray is a great first paddle or spare paddle. When you've paddled enough to really know what paddle you like best and length, etc., you can upgrade to an all carbon laminate paddle (which will cost you three times as much) and turn this into your spare paddle (and it will be a spare paddle that won't ruin your trip if you end up needing to use it).
The Manta Ray is available in standard and small shaft diameters. For most people (men and women), the standard shaft diameter is plenty small enough and you'll do well to build it up with after market grip tape, "Finger Boards", etc. The small shaft option is only right for people who have a trouble finding gloves small enough to fit their hands (XS and smaller glove size); if that's not you, get the standard shaft size.
Specs
The Posi-Lok ferrule system lets you adjust the feather angle in 15 degree increments from 0 - 90 degrees left or right. 
Scroll table to the right to see more details.
MODEL
C
O
L
O
R


B
L
A
D
E

D
I
M
W
E
I
G
H
T
S
T
D

L
E
N
G
T
H
Hybrid Straight Shaft, 2-pc
Black shaft, white blade
7.25" wide x 18" long
(180.5 sq.in)
31.75 oz.
(900 g)
210cm - 230cm in 5cm increments
Shipping
Curbside delivery from our Pick-Up Box -- FREE
2-Piece paddles shipped via USPS Priority Mail or UPS Ground: Shipping and Handling charge= $35.00