Kokatat Seeker paddling booties / kayak shoe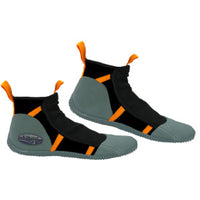 Kokatat Seeker paddling booties / kayak shoe
Kokatat Seeker paddling booties are a new concept in kayak shoes, ideal for wearing in low volume river kayaks and skin-on-frame (SOF) sea kayaks where the only other alternative is neo socks but you want a bit more protection without more bulk. If you have narrow feet, Kokatat Seeker booties are so comfortable they feel like slippers. Basically the Kokatat Seeker booties are a thin soled 2-3mm neoprene pull-on bootie, but the Kokatat Seekers have hidden internal bungee cord laces to keep them in place and minimize the amount of water they hold. The Seeker's internal lace system minimizes the risk of laces getting caught inside your kayak. The soles of the Kokatat Seeker give significantly more protection than neoprene socks for walking on gravel etc., yet you can still fit them into just about any kayak that you can wear neo. socks in.
Kokatat Seeker paddling shoes run true to size for narrow width feet when not wearing any socks inside of them. If wearing a dry suit with dry socks, we recommend going up one size, however, wearing dry socks usually necessitates footwear that has a wide toe box, so you will need to have a very narrow forefoot to wear these over dry socks.
Unisex whole sizes: 6-13, EU 38-47.5
Women wear one size smaller than your normal shoe size (unless wearing them over a dry sock).
Color: Black and gray w/ orange highlights