product, true, false
Kokatat Hydrus 2.5 SuperNova Semi-Dry Suit CLOSE-OUT SALE 2022 MODEL XL Only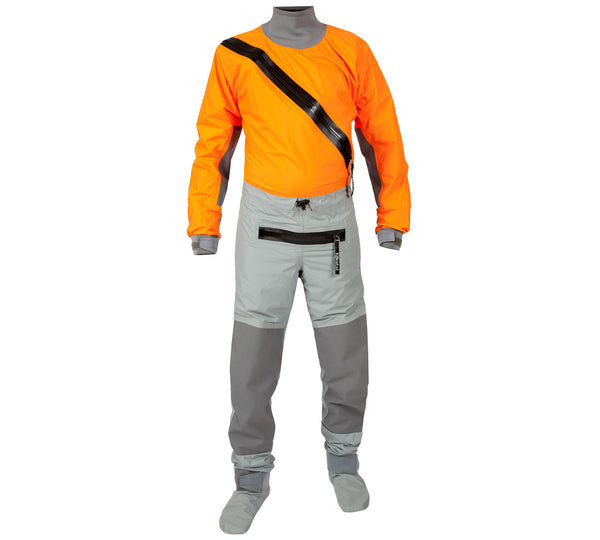 Introduction
This Close-Out Sale is limited to stock on hand of the of the 2.5 Layer Hydrus Fabric suits. As of 2023 the SuperNova Semi-Dry Suits will be built with 3.0 Layer Hydrus Fabric. The new three-layer fabric will be more durable and nicer overall, but the 2.5 Layer Hydrus fabric has been the standard for over a decade and these suits are still a fine product. Get em while you can at this price.
The Kokatat SuperNova Semi-Dry Suit has all the same features as the Swift Entry dry suit except that it has the "Neo Cinch Collar", a neoprene neck gasket. The Neo Cinch Collar on the SuperNova Paddling suit doesn't seal as well as a latex neck gasket, but it's more comfortable to wear than the latex neck gasket. As long as you aren't practicing multiple rolls in a kayak or going for a long swim off shore, the neoprene neck on the SuperNova suit may be good enough for your paddling needs (rec kayaking, canoeing, frostbite sailing, etc.). In other words, you will get several spoons full of water down the neck each time your head and/or neck go under water, but from the neck down the SuperNova Suit is the same as a dry suit. 
Description
The Kokatat SuperNova Semi Dry Suit is made of a 2 layer waterproof/breathable fabric called Hydrus 2.5 (The 0.5 comes from an additional interior print layer designed to improve the wearer's comfort).
The Men's Kokatat SuperNova Semi-Dry Suit comes standard with latex wrist gaskets, adjustable neoprene over-cuffs at the wrists and ankles (that cover the top of your booties to keep gravel out), waterproof breathable Dry-Socks made of the Hydrus 2.5 fabric, a men's Relief Zipper (for speed and convenience when nature calls), and a front entry water-sports nylon zipper that runs diagonally across the chest of the suit making it easy to get in and out of (as opposed to dry suits with rear entry shoulder zippers that require teamwork to get in and out of without breaking the zipper).
For fishermen and others who may be spending more time standing in the water than a recreational paddler and/or those who will be putting a lot of wear on their suit, we recommend the Kokatat Hyrdus 3.0 Super Nova Angler Paddling Suit or GoreTex Super Nova Angler Suit, both of which are heavier-duty versions of this suit.
Specs
Made of waterproof/breathable Hydrus 2.5 fabric

Reinforcement patches on the knees, seat, and elbows made of Hydrus Tough

Nylon water sports front entry zippers -- waterproof for surface water-sports

Men's Sizes:

Note: No custom options or sizing alterations are available on this model suit. The SuperNova suit comes with two year limited warranty.
NO SALES TAX if shipped outside WA state
FREE UPS Ground Shipping (48 US states, Priority Mail AK and HI, $50 postage for Norway, Sweden, Germany, Switzerland)
FREE KA Drysuit Care Kit included with this suit (KA Drysuit Owner/Maintenance Guide, Zipper Lube, 303 Protectant gasket lube, and Synthetic Fabric Soap and KA Washing Instructions)
Men's Kokatat Drysuit Sizing Table
Kokatat Hydrus 2.5 SuperNova Semi-Dry Suit CLOSE-OUT SALE 2022 MODEL XL Only
Kokatat Hydrus 2.5 SuperNova Semi-Dry Suit CLOSE-OUT SALE 2022 MODEL XL Only
has a rating of
4.0
stars based on
3
reviews.