product, true, false
NRS Comm-3 Wetshoe, Men's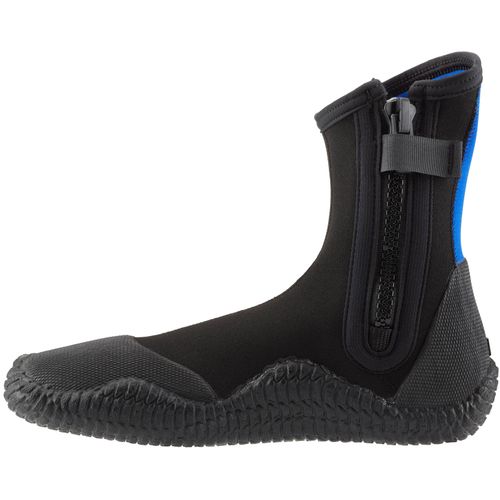 NRS Comm-3 Wetshoe, Men's
NRS Comm-3 Wetshoe bootie is the only bootie we know if that comes in Size 15. If you wear a smaller size we recommend the NRS Paddle Wetshoe instead. However, due to supply chain issues some sizes of the Paddle Wetshoe may not be available here or anywhere else for 2021 in which case the Comm-3 is the next best bootie. The Comm-3 booties is built off the same last as the Paddle Wetshoe so the fit is the same. These were originally intended for commercial outfitter use, so the back panel is color coded by size.

Sea and river kayakers with big feet will find the Comm-3 Wetshoe booties are good for all but cramped freestyle whitewater kayaks. The sole on the Comm-3 Wetshoe has enough tread to grip on rocks without being too bulky to wear in a sea kayak or creek boat.
The Paddle Wetshoe bootie is wide enough in the toe box to fit well over a dry suit with dry socks and liner socks inside (just buy one size bigger than your street shoe to accommodate socks). Comm-3 Wetshoe booties have a zipper dam to minimize water flowing in and the zipper is the locking style so it stays where you zip it even if you don't or can't close it all the way.
Comm-3 Wetshoes are made of stretchy 3-mm neoprene. A 3-mm thick high-traction sole, paired with a 5-mm neoprene insole, protects your feet from rocks and roots. The sole that extends flat past the heel and toe, wraps around and adds protection and durability.

If wearing them barefoot, they run true to size . If wearing over drysocks and liner socks, you'll need to go a half to one full size larger than normal (if you wear an 14 or 14.5 buy a 15). With this adjustment we get very few returns.

Whole unisex (Men's) sizes only. For women, a unisex 8 is about equal to a Woman's 9 (so if wearing these over a drysuit/drysock buy the unisex 8 if you wear a Women's 8 street shoe -- that will give you the extra room needed to accommodate the dry sock and liner sock in the dry suit)

Sizes: 15 (note 15 fits like 14.5 if wearing over socks)
If you need a smaller size, see the NRS Paddle Wetshoe instead

Color: Black w/ color coded panel in back - Back neoprene panel is color-coded by size for quick and easy identification in commercial settings.