NRS Storm Cap (with bill)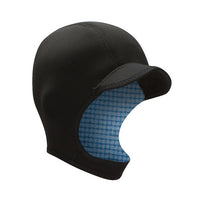 NRS Storm Cap (with bill)
The NRS Storm Cap, with its 2.5 mm neoprene, provides excellent thermal insulation and protection against the elements.
 The 2.5 mm neoprene provides the primary insulation.
Titanium-laminate adhesive insulates and reflects back body heat for increase warmth.\
Taped seams help keep water out and warmth in.
NRS lined the cap with their quick-drying Checked VaporLoft™ for extra warmth and comfort.
The sturdy, flexible bill provides shade from the sun and helps keep water from dripping into your eyes.
The stretchy, comfortable no-buckle chin strap makes the cap easy to put on, even when wearing gloves.