product, true, false
NRS Women's Paddle Wetshoe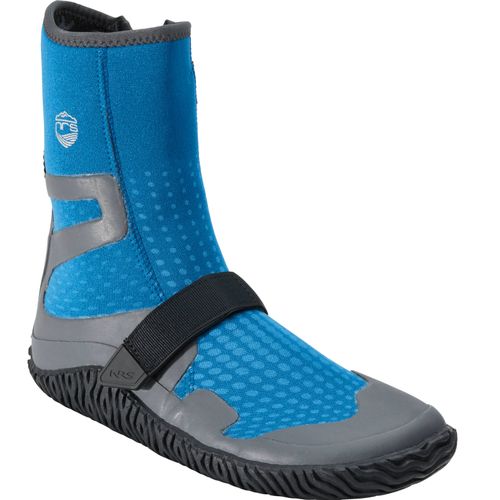 NRS Women's Paddle Wetshoe
NRS Paddle Wetshoe bootie is available in a Women's last. It has the widest toe box of any zippered neoprene bootie. The women's fit is narrower in the heel than the men's and a bit more slender above the ankle (which sometimes is a problem) -- so it fits most women's feet better than a unisex bootie, however, if you have "low calves" or big calves, you'll fit better in the Men's model of these booties (Men's model have a lower and wider ankle portion). Sea and river kayakers will find the Paddle Wetshoe is perfect for all but the most cramped freestyle whitewater kayaks. The sole on the Paddle Wetshoe has enough tread to grip on rocks without being too bulky to wear in most sea kayak and river kayaks.
The Paddle Wetshoe is wide enough in the toe box to fit well over a dry suit with dry socks and liner socks inside. This in itself is unique, but there is a lot more to like about the Paddle Wetshoe bootie. The toe box on the Paddle Wetshoe bootie is shaped like a foot. This shape makes the Paddle Wetshoe bootie extremely comfortable. Paddle Wetshoe booties have a zipper dam/gusset to minimize water flowing in, and the zipper is the locking type so it stays where you zip it -- so even if your calves are too big to close the zipper all the way the zipper will stay where you leave it.
Paddle Wetshoe is made of stretchy 3-mm Terraprene neoprene with heat reflecting titanium for warmth. Fleece-like VaporLoft lining adds a bit of warmth and comfort. A 3-mm thick high-traction sole, paired with a 5-mm neoprene insole, protects your feet from rocks and roots. The sole wraps up around the heel and toe for extra protection without the bulk of a sole that extends flat past the heel and toe, and this wrap around sole stays glued to the bootie for added durability. Extra padding over the outside ankle protects that pressure point inside your kayak. A roomy, naturally shaped toe box frees your toes for all-day comfort. An instep strap improves lateral stability when traversing on a river bank.
If wearing them barefoot, the Women's Paddle Wetshoe bootie runs true to size. If wearing them over a dry suit with dry socks, you'll need to go 0.5 - 1 size larger than your street shoe size (if you wear an 7, buy a 8, if you wear and 8.5, buy a 9) With this sizing adjustment your feet will be happy. If you have really wide feet or big calves just above your ankle, you'll be better off ordering the men's/unisex model of the NRS Paddle Wetshoe which we also sell on-line.
Whole Women's sizes only: 6-11