S3 Waterproof Dry Box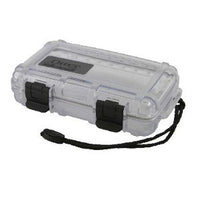 S3 makes three sizes of dry boxes that are perfect for sea kayaking. These waterproof boxes are drier and more rugged than dry bags, so we recommend them for things that can't get a single drop of saltwater on them -- such as spare batteries, remote door lock FOB, digital car keys, folding knives and multi-tool pliers, electronic devices that aren't waterproof, etc. Dry boxes are also a great way to carry sharp objects like spare rudder parts, bolts and screws, etc. that would poke holes in dry bags.
Get one of each size, you'll fill them all up. They make great gifts too.
Note photo represents the Large (T3000 model), the small (T1000 model) has a single latch in the center.
Small T1000 (Outside 4.4" x 3.05" x 1.4")
Medium T2000 (Outside 6.47" x 4.13" x 1.64") 
Large 3000 (Outside 8.38" x 4.66" x 1.88")