product, true, false
Pyranha 9R II
Pyranha 9R II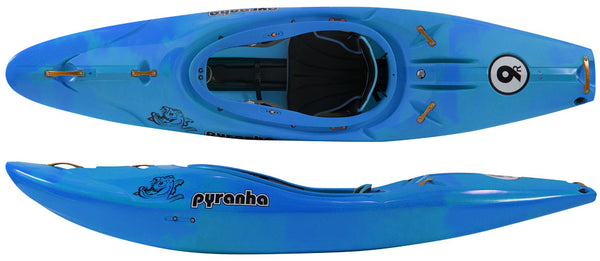 Description
9R II
The 9R II takes the 9R and tweaks it to be a little easier to handle, so now even more paddlers can get in on the fun.
With a wider and more stable stern, more volume and the same raw speed and feel it's going to be amazing to paddle the 9R II on steep creeks, load it up for multi-days and expeditions and enjoy the extra air on big water.
Features
Stern edges tailored to engage and aid tracking when the kayak is being driven forwards, and release for controlled carving performance in turns.
Extreme bow rocker lifts the kayak over features, and is finely balanced with the stern volume/width to carry maximum lateral speed out of drops.
Bow wave deflectors create dynamic lift and deflect spray, allowing you to concentrate on the water ahead.
9ft length with cut-off stern gives maximum race legal waterline for ultimate speed, with a clean release of surface tension.
A narrow, swede form hull paired with subtle paddle entry cutaways allows for perfectly placed paddle strokes and rewards them with explosive velocity.
The consistent deck peak sheds water efficiently and helps the kayak resurface predictably from drops.
Narrow width not only increases the dynamic speed of the Pyranha 9R, but also offers immense connectivity, effortless rolling, and lightning fast edge to edge transitions, even for smaller and shorter paddlers.
The 9R II is just shy of 9' in length, so it's race legal at events all over the globe, whether you're entering to win or just for the thrill, and its ground-breaking design and unparalleled speed are just as much fun to wield during your everyday missions too, opening up new moves and whole new possibilities such as mid-rapid line changes and easy attainments.
Best suited to a driven paddling style with control strokes around the bow to middle of the boat, the 9R II has the agility of a much shorter kayak thanks to the tailored rocker profile, and rewards power strokes with explosive velocity thanks to its narrow width and maximum waterline.
Extreme bow rocker and innovative wave deflectors are part of the secret to the 9R II's easily sustained speed, directing water under the kayak's fast planing hull and accelerating the boat through holes and other features while you remain dry and focused on the next move.
The 9R II's edges are soft at the bow to be forgiving, but become more pronounced towards the stern, allowing you to carve smoothly on edge with your weight back and aiding tracking during power strokes, while a squared-off stern allows the clean release of surface tension.
If you weigh over 165lbs/75kg and prefer a little more volume for taking on multi-day expeditions and steeper rivers, but don't want to miss out on the experience, then check out the 9R II Large.
Specs
To see more specs, scroll table to the right
MODEL
L
E
N
G
T
H
W
I
D
T
H
H
E
I
G
H
T
V
O
L
U
M
E
Weight
(advertised)
P
A
D
D
L
E
R

H
E
I
G
H
T
P
A
D
D
L
E
R

W
E
I
G
H
T
F
E
A
T
U
R
E
S
9R II Med.

8"11"
(272 cm)
25.5"
(65 cm)
NA
82 Gal.
(310 L)
48 lbs
(22 kg)
N/A
143-220 lbs
(65 - 100 kg)
Stout 2 Outfitting
9R II Large
9'5"
(287 cm)
26"
(66 cm)
" "
90 Gal.
(340 L)
51 lbs
(22.7 kg)
" "
165-275 lbs
(75 - 125 kg)
" "
SPECIAL SHIPPING REQUIRED
Kayaks are excluded from our free shipping policy. River kayaks are expensive to ship and prone to being damaged. We recommend picking them up at our shop. If needed, we can provide information for you to arrange your own FOB shipping.