RAM Suction Mount X-Grip for cell phones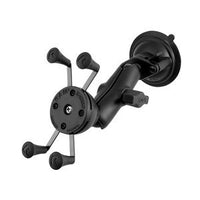 RAM Suction Mount X-Grip for cell phones
RAM Suction Mount X-Grip features a 3.25" twist lock suction cup base with a short double socket and 1" ball with an adjustable X-grip holder. The flexible arm allows almost most any viewing angle. The suction cup base will attach to any non-porous flat surface such as a fiberglass deck, smooth plastic or glass (such as a car window) with a very strong hold. Ideal for holding your cell phone such as an Iphone but will hold any other small electronic of similar size. The X-grip cradle has great holding power and will expand and contract allowing for a custom fit of your phone.
We recommend using a leash when using this mount.
Compatible Apple products include: iPhone 3, 4 & 5 as well as iPod Touch (all models), iPod G1-G5, and Samsung GALAXY S4
Holder Dimensions:
Minimum Width = 1.875"
Maximum Width = 3.25"
Depth = 0.875"
RAM mount RAM-B-166-UN7U