RAM Zooka Tube w/1.5" Screwball & T-nut Rod Holder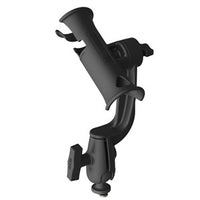 RAM Zooka Tube w/1.5" Screwball & T-nut Rod Holder
The RAM Zooka Tube Rod Holder has quickly become known as the most versatile rod holder on the market. It will hold a rod in either end of the tube. Use it with either side by flipping the rod holder over to hold different styles of spinning or casting rods. It can also double as a stake out pole holder. Combining the patented RAM rubber ball and socket system with a ratcheting feature; this rod holder has almost infinite adjustability.
RAM Zooka Tube with 1.5" RAM ball and T-nut fits NuCanoe Freedom Track, YakAttack Gear Trac and Mighty Mount installations and may also fit some other brands of tracks.
The Zooka Tube is the same as RAM Tube Jr.
NuCanoe 4043 Zooka Tube