product.portfolio, false, false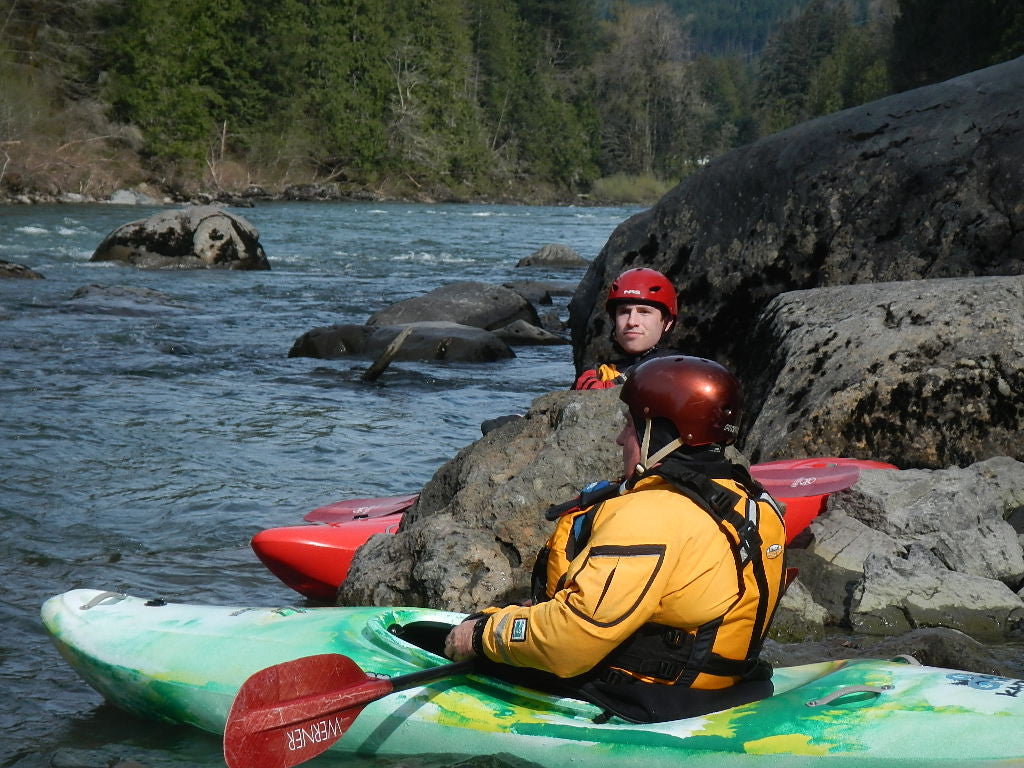 River Kayaking 101, Beginning River Kayaking
***COVID UPDATE***
Due to risks of COVID19 we are not offering river kayaking classes at this time
Intro
Before heading down a river, beginning white water kayakers need to begin learning the fundamentals of river kayak boat handling, edging, rolling and safety. The first session is best done on flat water; the second day you'll begin applying your boat handling and paddling skills on some easy moving water at a location that is chosen to build your confidence not your fear.
Skilled kayakers know that wearing a dry suit speeds up the learning curve by allowing you to play harder without worrying about getting cold and wet. The Kayak Academy is the only kayak school that gives you this advantage by providing FREE use of drysuits in our kayak lessons. This is one of the reasons why you'll learn more in K.A. lessons.
Learning to paddle a river kayak without developing bad habits or taking unnecessary risks is what this course is all about. Whether you've never been in a kayak before or you feel the need to start over -- this beginning river kayaking course gives you the best possible start. Rolling is not a prerequisite to take this course.
If you are already comfortable practicing capsizes and wet exits and rolling, you may be able to skip this course and go directly into our school's RK120. Call us for an assessment of your existing skills; we may ask you to demo some skills in a river kayak or take a rolling refresher course before you take the RK120 course.
Description
This course starts at the beginning with how to: fit a kayak, hold a paddle, do a wet exit, and paddle a river kayak in a straight line where there isn't any current. Our instructors are patient and well trained to help students work through their anxieties about being upside down in kayak, doing wet-exits and rolls. By the end of the first session you'll be able to make a river kayak go where you want it to in flat water; in the second session we'll take you where there's a bit of current so you can begin to learn the art of crossing eddylines, ferrying, and catching eddies -- these are basic skills needed in order to run whitewater rivers. Note, a short rolling intro/refresher is included, but students who take this RK101 course without an existing roll will generally need to further their roll training after this course - see our 2-hour rolling lessons: RK103, RK203
The goal of this course is to prepare you for success the first time you paddle down a Class II white water river. With this two day class and some additional rolling practice, you be ready for our RK 120 course - "River Kayak Training Trips Part 1".
Details
Locations:
First day: Meet at the K.A. shop to get fitted for a boat and drysuit etc. (or to inspect and adjust it if you bring your own). Then we will reconvene at: Tibbett's Beach, Lake Sammamish State Park. A Washington State Parks Discover Pass is required to drive into the park. Buy Discover Pass On-line or at the ranger station (there is a machine outside the ranger's office that accepts credit cards). You'll need a Discover Pass both days.
Second day: Location will be announced at the end of the first day as it depends on river flows and the group's ability.
Duration (note Winter vs. Summer schedules):
Winter (Nov. - April): 11am - 7pm on Saturday (w/ breaks for lunch and dinner) and 5-6 hours on Sunday. Note: Saturday 5pm-7pm will be at the Hazen HS Pool (bring a bathing suit and towel). Also in the winter on some non-class Saturday's from 5pm - 7pm we offer open practice time Pool Practice for Kayakers at Hazen HS Pool.
Summer (June - Oct.): 9am-4pm on Saturday and 5 - 7 hours on Sunday
Class Size: 5
Tuition: $550.00 (includes use of dry suit, booties, and scull cap)
Dry Suit Rental: No Charge - Included with tuition
Kayak Rental: $100.00 for both days, delivered to the lesson. Includes boat, paddle, PFD, helmet, spray skirt, and rear float bags.
Prerequisites: Must be able to swim well enough to be comfortable putting your head under water and able to swim the crawl stroke and breast stroke without a buoyancy aid. Minimum age--sixteen (for younger people, see our private family kayaking lessons).
Please read our Cancellation/Reschedule Policy 
Liability Form:
Please click here to go to and fill out our online "Student Record and Liability Release Form".
How to sign up for classes/rentals:
Fist select the rental option and, if applicable, the lesson location. Then select the date of the lesson/rental you wish to take.
If you have moved onto the second sign-up page and are having trouble seeing all the required fields, try placing your mouse pointer over the "Additional Information" field and using the scroll wheel on your mouse. Otherwise, you can click on a visible field and hit the "tab" button on your keyboard to go to the next required field.
River Kayaking 101, Beginning River Kayaking
has a rating of
5.0
stars based on
3
reviews.