product.portfolio, false, false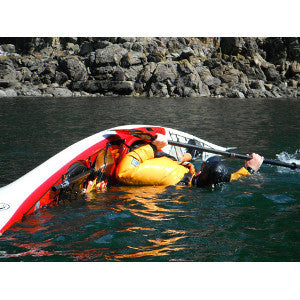 SK/RK 103, Beginning Rolling
Description
Beginning Level Kayak Rolling Lesson (aka Greenland Roll)
We have started up rolling lesson again at Lake Sammamish State Park. 
If you capsize, re-entry rescue, and bracing skills are good but your other kayak lessons didn't include rolling, or you used to be able to roll but lost it, this is the lesson for you. This kayak rolling lesson is for both whitewater and sea kayakers.
For sea kayakers, if your bracing and hip snap are not adequate to keep yourself upright, or it takes you more than eight strokes to make a circle, we recommend taking our SK 101 & 102 or 115 courses.
NOTE: This is not a substitute for learning how to wet-exit (as some YouTube fans believe).
If you are bringing your own kayak, please let us know which make and model you will bring when the sign-up form prompts you. Your kayak must be approved. If it does not meet rolling criteria we will ask you to rent.
Details
Location:
Summer (May - Oct.): Tibbitts Beach (map), Lake Sammamish State Park
Duration: 1.5 hours
Class Size: 2 - 3 people 
Tuition $250
Kayak Rental: $35.00 plus tax, delivered to the lesson. Includes kayak, spray-skirt, PFD, bilge pump, paddle float, and paddle.
Parking: Summer: A Washington State Discover Pass ($30/yr.) or $10 Day Use Fee is required to drive into the State Park. Passes may be purchased from the machine at the park entrance or online at: Buy Discover Pass On-line
Please read our Cancellation/Reschedule Policy
Prerequisites: SK 102 or higher-level training or equivalent with approval. 
Liability Form:
Please click here to go to and fill out our online "Student Record and Liability Release Form".
How to sign up for classes/rentals:
Fist select the rental option and, if applicable, the lesson location. Then select the date of the lesson/rental you wish to take.
If you have moved onto the second sign-up page and are having trouble seeing all the required fields, try placing your mouse pointer over the "Additional Information" field and using the scroll wheel on your mouse. Otherwise, you can click on a visible field and hit the "tab" button on your keyboard to go to the next required field.
SK/RK 103, Beginning Rolling
has a rating of
4.3
stars based on
3
reviews.