product.portfolio, false, false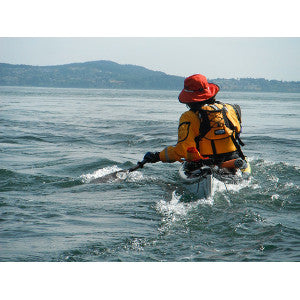 Sea Kayaking 102, Sea Kayak Boat Handling intro.
Description
Sea Kayak Boat Handling intro.
Balancing your kayak on edge is a critical skill for effective turning, steering straight in wind, and dealing with rough water conditions, but in order to paddle with your boat on edge, you need to feel confident that you won't capsize if you lose your balance. This confidence comes from learning effective bracing strokes. In this class, you'll be introduced to the high and low brace for balance and the two kinds of hip snap used for them. You'll also learn how to move your kayak sideways in order to raft up with others and how you can tow another kayak to deal with numerous safety problems.
Students who are interested in learning to roll will be given drills to prepare for taking a rolling lesson (kayak rolling is not taught in this class, but this class will build the fundamentals needed to learn it).
This course builds on the fundamentals taught in our SK101 class with some review of the strokes you learned there and moves on to more advanced skills that will give you the full quiver of strokes we teach in our SK111 course. This course will also improve your forward stroke efficiency and speed through a deeper understanding of good posture, healthy wrist positioning, and utilizing your core in concert with the paddle blade to power your kayak forward.
If you are already comfortable practicing capsizes, wet exits, and reentry rescues, you have a choice between this one-day class and then the SK103 rolling or going directly to SK 115 Five-Day Kayak Training Camp -- this course includes kayak roll training.
After completing this course, students generally feel comfortable paddling on small lakes and sheltered, non-moving waters in light winds and are ready for our SK110 Saltwater/Navigation Trip or SK 115 Five-Day Kayak Training Camp. 
Details
Location: Tibbett's Beach, Lake Sammamish State Park (map)
Duration: 6 hours, typically on a Saturday or Sunday
When: 9 am - 3 pm (allow an hour after class to put the gear away and change clothes)
Class Size: 5 maximum with 5 to 1 student/instructor ratio maximum
Tuition: $250.00 (includes free use of dry suits, booties, and a cap) 
Dry Suit Rental: No Charge - Included with tuition
Kayak Rental: $35.00 plus tax, delivered to the lesson. Rental Includes 14'-16' Roto-molded Beginner's Touring Kayak, Paddle, PFD, Spray Skirt, Bilge Pump, Self-Rescue Paddle Float, Sponge.
Parking: A Washington State Discover Pass ($30/yr.) or $10 Day Use Fee is required to drive into the State Park. Passes may be purchased from the machine at the park entrance or online at :Buy Discover Pass On-line
Prerequisites: SK 101 or equivalent training with approval. If the only kayak lessons you've had were from REI you'll need our SK101 before enrolling in this lesson. WKC and Mountaineer sea kayak students are welcome.
Please read our Cancellation/Reschedule Policy
Liability Form:
Please click here to go to and fill out our online "Student Record and Liability Release Form".
How to sign up for classes/rentals:
Fist select the rental option and, if applicable, the lesson location. Then select the date of the lesson/rental you wish to take.
If you have moved onto the second sign-up page and are having trouble seeing all the required fields, try placing your mouse pointer over the "Additional Information" field and using the scroll wheel on your mouse. Otherwise, you can click on a visible field and hit the "tab" button on your keyboard to go to the next required field.
Sea Kayaking 102, Sea Kayak Boat Handling
has a rating of
5.0
stars based on
10
reviews.