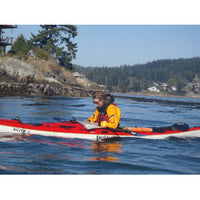 Sea Kayaking 115, Five-Day Kayak Training Camp
Description
Five-Day Kayak Training Camp
Our Five-Day Training Camp is the fastest way for a sea kayaker to advance from beginner/intermediate to a highly skilled paddler with trip leadership and navigation experience. Intermediate/advanced students get amazing skill refinement and discover techniques and concepts not taught anywhere else. After this course, you will be more skilled than most people with years of paddling experience. It's excellent training for guides too. The class size is kept small so we can challenge each student to their individual level.

We teach strokes and rescues from a practical point of view you won't get anywhere else. Build confidence and self-reliance by learning the boat handling and safety skills needed to deal with the winds, waves, currents, and capsizes that are part of sea kayaking. No time is wasted sitting indoors theorizing, we include free use of dry suits so you can learn outdoors in the environment you want to kayak in. 

In this course you will learn how to perform all the paddle skills necessary to competently paddle a sea kayak without the risky limitations of relying on a mechanical rudder for steering or the kayak's stability for balance. We teach feathered, unfeathered, and Greenland style paddling technique - you decide which you prefer. You will practice: wet-exits, assisted and self-rescues, towing swimmers and kayaks, and the kayak roll (over 90% of students who took this course learned to roll in sea kayaks, and virtually all who tried it succeeded at rolling with the help of a paddle float as a training aid.) Our progression leading up to rolling will also improve your bracing, steering, and forward paddling. You'll learn the bracing strokes, seven ways to steer in side winds without ruddering, improve the speed and efficiency of your forward stroke, and prevent tendinitis from paddling. We also provide video playback with coaching for your forward stroke and each student leaves with their own personal written prescription to improve their technique.
That's just the first three days! On the last two days we'll do an overnight kayak camping trip to the islands around Anacortes. Paddle through waves, cross eddy lines, and get hands-on experience at kayaking leadership and navigation.  Each student is provided with their own chart, compass, and tide tables.* With these tools in hand and the water in front of you, you'll not only learn to predict tides and currents - you'll learn to: check your predictions by observing the rise or fall of the tide, reading the water so as to see the current and eddies with your own eyes, interpret marine weather forecasts, take compass bearings to fix your position, determine ferry angles, and understand the "rules-of-the-road" for boaters.
*Handouts include a draft of, "Kayak Trip Planning & Leadership Guide", by George Gronseth. You also get to keep a set of Washington Tide and Current Tables, and your kayak logbook of the trip.

Details
Registration and Confirmation:
Click the date on the calendar, click next to scroll down to complete the information needed for the class.
Instructor: George Gronseth
Location for first three days: Tibbett's Beach, Lake Sammamish State Park
Location for last two days: Launch near Anacortes, Washington on the 4th day. Camp on an island and return on the last day. (destination depends on conditions and time of year)
Duration: 5 days
Class Size: 5 for the first 3 days. For the last 2 if more than 5 students, we will add a second instructor, and then 7 students are maximum
Tuition: $1400.00 (includes handouts and free use of drysuit, booties, and skull cap)
Dry Suit Rental: No Charge - Included with tuition
Kayak Rental: $250.00 ($50/day x 5 days) plus tax, delivered to the lesson. Includes: Brit style sea kayak w/skeg, paddle, spray-skirt, PFD, bilge pump, and paddle-float
Tent Rental: $30 total for trip
Sleeping Bag Rental: $30 total for trip (includes a liner sheet which is washed each time and an air mattress)
Parking Fee Day 1-3: A Washington State Discover Pass ($30/yr.) or $10 Day Use Fee is required to drive into the State Park. Passes may be purchased from the machine at the park entrance or online at:Buy Discover Pass On-line
Parking Fee Day 4&5: Depends on location $7-10 (please bring cash)
Camping Fee: Included with tuition
Please read our Cancellation/Reschedule Policy
Liability Form:
Please click here to go to and fill out our online "Student Record and Liability Release Form".
How to sign up for classes/rentals:
Fist select the rental option and, if applicable, the lesson location. Then select the date of the lesson/rental you wish to take.
If you have moved onto the second sign-up page and are having trouble seeing all the required fields, try placing your mouse pointer over the "Additional Information" field and using the scroll wheel on your mouse. Otherwise, you can click on a visible field and hit the "tab" button on your keyboard to go to the next required field.