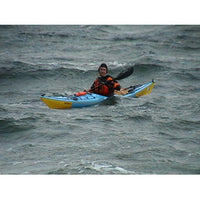 Sea Kayaking 311, High Wind Kayaking
Description
High Wind Kayaking
Kayakers often overrate the wind speed and wave size that they have paddled in, but in the Columbia River Gorge, you can expect honest wind speeds of 15- 30 knots and wind waves up to six feet. During these two days of training, you'll be put through the paces of turning circles, doing rolls and rescues, towing kayaks, surfing wind waves, and paddling at all angles to the wind. It's some of the best incident management training a kayaker can get.
Regardless of your strength, it takes technique to do these skills in severe conditions, and if you've had his other lessons, you know that no one is better at teaching kayaking techniques than George Gronseth. There's no other class with such practical tips for controlling your kayak and performing rescues in wind. Paddling the Gorge with George is a rite of passage that no sea kayaker should miss.
For prerequisites, we recommend starting with our 5-Day Training Camp, then progressing through our Tidal Rapids Training at Deception Pass and Ocean Surf Kayaking courses. Contact us now to start preparing for next year's High Wind Training.
The High Wind Training is only offered once per year during June or July because that is when the wind is strongest in the Gorge, and weekdays only because there are too many kite-boarders on weekends.
Details
Registration and Confirmation:
Determine the date that fits your schedule. Read prerequisites, liability, and cancellation policy.
Place your reservation.
Look for an emailed invoice and call to make payment. You will have a limited time to pay before we reopen the spot.
Your spot is confirmed once you pay. 
Instructor: George Gronseth
Location: Columbia River Gorge (meet at Home Valley Park, east of Stevenson, WA)
Duration: 2 days
Class Size: 6
Tuition: $770.00
Dry Suit Rental: No Charge - Included with tuition
Kayak Rental: $100.00/day plus tax, delivered to the lesson. Includes: Brit style sea kayak w/skeg, paddle, spray-skirt, PFD, bilge pump, and paddle-float.
Parking: Mostly free but it depends on locations after we meet. If you have a Washington State Discover Pass ($30/yr.) bring it.
Camping: Recommend staying at Panther Creek Forest Service Campground
Hotels: in Stevenson
Please read our Cancellation/Reschedule Policy
Liability Form:
Please click here to go to and fill out our online "Student Record and Liability Release Form".
How to sign up for classes/rentals:
Fist select the rental option and, if applicable, the lesson location. Then select the date of the lesson/rental you wish to take.
If you have moved onto the second sign-up page and are having trouble seeing all the required fields, try placing your mouse pointer over the "Additional Information" field and using the scroll wheel on your mouse. Otherwise, you can click on a visible field and hit the "tab" button on your keyboard to go to the next required field.