Seattle Sports Quick Loops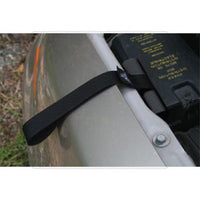 Seattle Sports Quick Loops
Seattle Sports Quick Loops make tying the bow of your kayak to your vehicle as clean and easy as possible. Simply open your hood and lay the rubber hose end of the Quick Loop inside the engine compartment then close the hood with the loop hanging out. Now you have a quick way to tie your kayak to the front of your vehicle without having to crawl around in the mud. Sold in pairs, recommend using one pair for the front of the vehicle so you can tie the bow or your kayak with two diagonal lines like an "A"-frame house.
A Quick Loop can also be used on a trunk or hatch-back car to create a tie-down for the rear end of your vehicle. If you are only carrying one kayak, a single line to your kayak at the rear end of your vehicle is the standard, having a pair of Quick Loops for the stern allows you to secure two kayaks at the rear of the car.
Tip: See our 6' Tie Down Straps to make it easy to connect between these Quick Loops and your kayak.