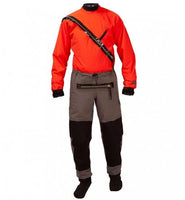 Short Term Drysuit Rental for Student Paddle Trips
Short-term Drysuit Rental for a TRIP
For local WA club members ONLY
If you just signed up for a club kayaking, rafting, or canoeing TRIP and you need a drysuit, you can rent one here. You can have the rental shipped to your home or you can pick the gear up at Kayak Academy by appointment. There are cut-off times for shipping and in-store pick-up of rentals. Please read below. 
Rental cutoff times:
If the drysuit is being picked up at Kayak Academy (In-store pick up)

You must complete the rental purchase the Thursday or 

Friday before

the club trip, by 11:59 AM (noon)
If the trip is on a Saturday or Sunday, you must finalize payment by 12 noon the Friday before.

If the drysuit is being shipped to your home

You must complete the rental purchase by the

Tuesday before

the club trip, by 11:59 PM (midnight)
Rental Options
1-day rental
2-day rental
3-day rental
Each rental includes a pair of neoprene wetsuit booties of the appropriate size and a cap or balaclava. 
Dry Suit Rental Options and Fees:
The following prices do not include taxes
1-day
2-5 days

$55 for the first day
$35 for each additional day 
Neoprene Bootie and Balaclava Rental Fees:
Included with rental, free of charge. Some students own shoes that are one size larger to fit with the dry sock on a dry suit. If you have that choose just a dry suit. The shipping is less expensive without the neoprene boot.
Shipping
UPS ground shipping fees:
One way (you will need to bring the gear back to K.A. or pay to ship gear back to us)

Rental contains only dry suit:
Rental contains dry suit + neoprene booties:

Both ways (K.A. includes a pre-paid return shipping label and you ship gear back to us in the original box)

Rental contains only dry suit:
Rental contains dry suit + neoprene booties:
If you choose to have the rental gear shipped to you, PLEASE HOLD ONTO THE SHIPPING BOX. The included return shipping label is paired with the box.
NOTE: Cost of shipping will be charged at checkout.
Refunds
If you change your plans before we ship the dry suit and don't need the suit anymore, we will refund your payment in full. For suits that have been shipped, refunds will be treated on a case-by-case basis.
Kayak Academy has a friendly Returns Department that responds favorably to kind words! 
Neck gasket fitting
If you've never worn a dry suit before, your first impression will likely be that the neck gasket is too tight. But gaskets need to be snug or the suit will leak.
Generally, people forget all about the gaskets once they get on the water and start having fun (or see the big hole they are about to drop into). However, if you try on a new drysuit at a store, the gaskets are probably tighter than necessary. We customize the fit of the gaskets on our rental suits in proportion to the neck and wrist sizes of the average person likely to wear each size dry suit.
If you have a huge neck or wrist and/or have a medical sensitivity that the gaskets may cause a health issue (i.e. if you've had lymph nodes removed, you are genuinely concerned about your circulation or have a sensitivity to latex), tell us in advance and/or ask someone in your group with experience wearing a dry suit to check the gasket fit.
The only way to significantly loosen a gasket is to trim it with sharp scissors, you may need to do this, however, if you trim a gasket we will have to replace it so the suit won't leak for the next renter - therefore you will be billed for the cost of replacing the gasket ($95 neck and $45.00 each wrist).
Liability Form
You must fill out one of our liability forms to use our gear. Please click here to go to and fill out our online record and release form.
Gear Return and Late Fees
Gear returned more than 3 days after the class will be charged a standard per-day rental rate:
Dry suits: $35.00
Kayaks: $45.00
K.A. cannot accommodate boat preferences
We can not accommodate boat preferences for these rentals due to the large number of kayaks rented. Kayak Academy will choose a rental kayak model appropriate for the sizing info you provide here. Please input accurate sizing.
K.A. policy on damaged/lost gear
Damaged and/or lost rental dry suits, kayaks, and gear are the renter's responsibility. 
Damaged dry suits (beyond/other than 1 torn gasket), trimmed gaskets (without K.A.'s permission), and/or lost dry suits and kayaks will incur damaged/lost equipment fees.
Damage/lost equipment charges:
Drysuit fabric puncture damage

$5 per pinhole after the 3rd one

Drysuit: broken zipper, torn fabric, paint and/or glue contamination, rubber patches, aquaseal repair, etc.

Up to MSRP retail price of drysuit. Replacement charge = MSRP retail price.

Kayak: puncture holes, cracks, broken hardware

Up to

 

MSRP retail price of kayak. Replacement charge =

 

MSRP retail price.

Lost drysuit and/or kayak

MSRP retail price of drysuit and/or kayak
Application of rental credit towards Dry suit
For drysuits, renters may use up to $150.00 of their rental fee towards the purchase of a new dry suit from K.A. before Dec. 31, 2022. This credit may not be combined with any other offer or sale and does not apply to used Dry Suits.
Club Discounts
Rental kayaks and drysuits used for this WKC course are not for sale but we do have some select sizes of used drysuits from prior years available.
Liability Form:
Please click here to go to and fill out our online "Student Record and Liability Release Form".
How to sign up for classes/rentals:
Fist select the rental option and, if applicable, the lesson location. Then select the date of the lesson/rental you wish to take.
If you have moved onto the second sign-up page and are having trouble seeing all the required fields, try placing your mouse pointer over the "Additional Information" field and using the scroll wheel on your mouse. Otherwise, you can click on a visible field and hit the "tab" button on your keyboard to go to the next required field.