product, true, false
Suspenz DLX Beach Cart w/Flat Platform (w/ 1" Shallow "V")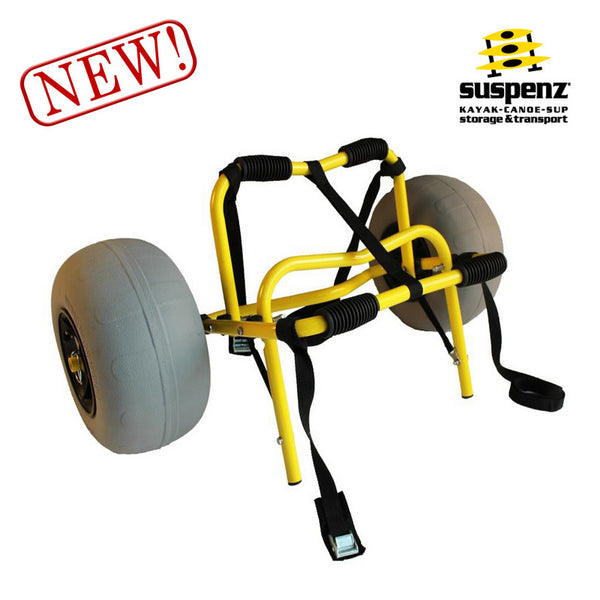 Suspenz DLX Beach Cart w/Flat Platform (w/ 1" Shallow "V")
Suspenz DLX Beach Cart w/1" Shallow "V" and 12" dia. x 7" wide balloon tires is our favorite kayak cart for sandy beaches. It's frame is large enough to make a stable platform -- less likely to fold up while loading your kayak on it or tip over or collapse when rolling over roots, ruts, and rocks. It's 12" diameter balloon tires roll well on pavement, dirt, grass and gravel, and even loose sand. This cart can handle a one-person kayak plus some gear or an empty tandem sea kayak.
With center carts like this you can pull your kayak like a little wagon with no weight on your arms. Why risk injuring your back when you can let wheels do all the work?

The cart has a kickstand with two legs to ease the loading of your kayak on it, and it comes complete with cam straps to tie your kayak to the cart. Best of all, the Suspenz cam straps have loops sewn into the ends to make it easy to attach them to the cart's frame in a way that really secures the kayak to the cart to eliminate load shifting under way. Suspenz's unique strap system combined with the frame's 1" of shallow "V" to the so called "flat platform" keep the kayak from rocking and shifting (getting misaligned).

The downside of any cart with beach wheels is you can't fit the wheels inside your kayak hatches. Plan to either lock your wheels to a fence or tree with a bike lock cable or put them back in your car.
Platform is 14" x 18" w/ 1" shallow "V" to keep kayak from rocking and shifting
The manufacturer rates this cart for 175lbs static load.
KA recommends a rolling load limit of 90 lbs.