product, true, false
Valley Kayak Skeg Brass Compression Fitting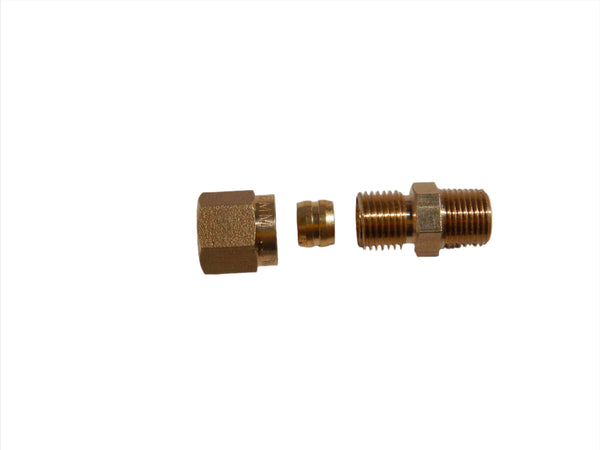 Valley Kayak Skeg Brass Compression Fitting
This is the Valley Kayak metric Brass Compression Fitting for the aft end of Poly-Tube that the steel skeg cable slides in. This won't work for the front end (the controller end) of the system (if you need the compression ring for the front end, order the "Splice Kit"). It is very rare that anyone ever needs to replace this part (most likely you bought the boat used and someone had tried to fix the skeg and made a mess of it).

If you are replacing this compression fitting at the back end of the boat (where the poly-tube connects to the skeg box) you will need two 13mm open end wrenches to tighten this compression fitting (one wrench to hold the part of the brass fitting that is screwed into the skeg box and the second wrench to tighten the nut part of the fitting that is on the poly-tube). When tightened, the brass ring is permanently compressed onto the poly-tube (so the old ring can't be re-used).

Put the front end (the controller end) of the skeg system together before cinching the compression fitting at the skeg box end. The poly-tube should extend out past the brass ring about 1/4" (look close at the photo for the "Splice Kit" which shows the brass ring in place on the poly-tube).

After putting the skeg system together, leak test it by turning the kayak upside down and filling the skeg box with water. Water will flow out the front end of the control system - that is normal. So quickly check inside the hatch for leaks around the top of the skeg box and the poly-tube. Refill the water level as needed. It is normal to have some small leakage (a few drips) even with the compression fitting tightened, but a big leak mean's something didn't get put together right or the compression fitting needs more torque. To finish the job, dry everything and apply liberal amount of Marine Goop all over the compression fitting, the end of the poly-tube and the top of the skeg box where the brass compression fitting screws into the boat.