Cable Crimp Sleeve for Rudder Cables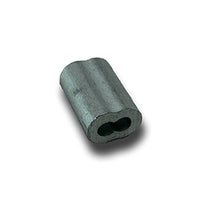 Cable Crimp Sleeve for Rudder Cables
Cable Crimp Sleeves are used to make loops at the aft end of rudder cables in order to bolt the cable to the rudder cross-arm. Some rudder systems also use crimps to make loops in the rudder cables at the forward end in order to attach the rudder cable to the rudder pedals.

Sold individually. Typically you will need either two or four crimps depending on the above.
If you don't have a cable crimping tool, you can use the jaws of a Vise Grip tool to do the crimping.