Jackson Bees Knees Thigh Brace Kit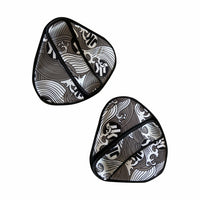 Jackson Bees Knees Thigh Brace Kit
2022 and newer models of Jackson White Water kayaks come with Bees Knees, but now you can upgrade your older Jackson kayak with the same outfitting.
Looking for a more aggressive fit from the thigh grips in your Jackson Kayak? Bees Knees Thigh Brace Kit can be quickly installed and adjusted to give you increased connectivity, security, and control on the water.

Consisting of a foam padding these replace the existing knee foam with just a couple plastic rivets and peal-and-stick adhesive. The Bees Knees wrap over your thigh to provide a closer fit for finer edge control and heightened grip on the kayak when pushing your limits or rolling in rougher water. The foam wrap around piece is held in place with Velcro so you can easily move it to where it fits you best.

Includes instructions, plastic rivets, peal-and-stick foam.