P&H Skeg Slider Knob (for string and bungee skeg system)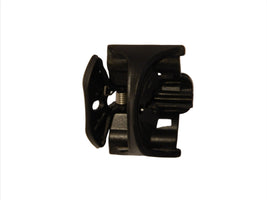 P&H Skeg Slider Knob (for string and bungee skeg system)
P&H Skeg Slider Knob. This is the knob for string and bungee skeg systems with the newer, thick Yellow string. This is the current factory replacement knob.

Note the current production string (yellow) is thicker than the old blue string that the earlier versions of these skeg systems were designed for:

P&H hasn't stocked the thinner, blue line in a while.

P&H changed the skeg line to the thicker yellow one a few years back (2019?). With the MKII slider system it is fairly easy to remove the slider knob and drill out the hole in the control box just a bit wider for the yellow string. If you still have the original version of the slider assembly you could try to widen the hole on the button/knob the line goes through or you can replace it with the MKII slider knob. The easiest way to distinguish between the original control box and the MKII is that the MKII slider assembly has two silver colored allen screws at the front of the assembly.