product, true, false
Universal Ankle Gasket for Drysuits and Dry Pants / Bibs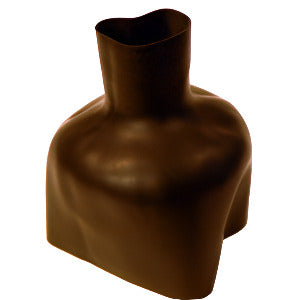 Our Universal ankle gasket will work as a replacement seal for most brands of dry suits, dry pants, and dry bibs with latex ankle gaskets (including Kokatat, however, we also sell Kokatat gaskets). If you prefer, you can use ankle gaskets in place of latex dry socks as long as you match the width of the top of the ankle gasket to fit the bottom of the leg cuff. Note we sell latex dry socks too, so only switch to ankle gaskets if you need to (i.e. for kite boarding or water skiing). Illustrated how-to instructions are included.
To have K.A. replace your ankle gasket(s), go to GASKET REPLACEMENT SERVICE, Non-Kokatat Brand ANKLE (parts & labor)
To install these gaskets yourself, we recommend using AquaSeal Adhesive (sold separately and we only ship it via UPS Ground due to HazMat regulations, so you may want to buy it at your local sporting goods shop or SCUBA dive shop). A 1oz tube of AquaSeal Adhesive is sufficient for replacing all gaskets on at least one suit. We highly recommend buying our Ankle Gasket Replacement Tool to make it easy to do a professional quality job when installing new ankle gaskets. These tools are sold separately, use the "Continue Shopping" button to find them. See Ankle Gasket/Latex Sock Replacement Tool
Our Universal Latex Ankle Gaskets are available in Standard width top or Wide leg top (see notes below on sizes), and for each pant leg width there is a choice of Youth or Adult sized gasket. The gaskets are tapered, so you can loosen their fit on your leg by trimming material off the lower end. Trimming 1/4" off the lower end of the gasket will make it significantly looser on your body.
The Standard width top Ankle Gaskets fit dry suits etc. with a pant leg cuff that measures 7" across when flattened (with the fabric doubled). (This includes Kokatat and most modern water-sports dry suits) The Wide Top Ankle Gaskets fit dry suits etc. with a pant leg cuff that measures 8.25" or larger across when flattened (with the fabric doubled) The Wide Top size is uncommon but used on some diving suits and pilot survival suits. Note the gaskets are rubber, so the gasket can stretch to fit a larger cuff, but you can't stretch the suit to fit a gasket that is too big. So if your suit's cuff measures 7.75" instead of 7", go with the standard width top gasket - the gasket will stretch to fit. If your suit's cuff is 8.0", you can stretch the Standard Width top gasket to fit, but it will be easier to modify the Wide Top gasket to make it a little smaller. To make a gasket fit a bit smaller cuff, first put the gasket on the suit without glue to test the fit. If the gasket is just a little loose, trim half an inch off the upper end of the gasket (the end of the gasket that glues to the suit). The gasket is slightly tapered, so trimming a half inch off the top will make the top about 1/4" narrower.
Use the above measuring method rather than trying to measure the circumference of the pant leg cuff - the above method is much easier and more accurate.
Note our Universal ankle gaskets are sold individually. If you need a pair, set the quantity to 2.
Universal Ankle Gasket for Drysuits and Dry Pants / Bibs
Universal Ankle Gasket for Drysuits and Dry Pants / Bibs
has a rating of
4.8
stars based on
4
reviews.