Universal Wrist Gasket For Drysuits and Drytops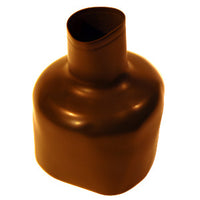 Universal Wrist Gasket For Drysuits and Drytops
Our Universal Wrist Gasket will work as a replacement wrist seal for most brands of dry suits and dry tops with latex wrist gaskets (including Kokatat, but we also sell Kokatat brand gaskets). Illustrated how-to instructions are included.
To have K.A. replace your latex wrist gasket(s), go to GASKET REPLACEMENT SERVICE, Non-Kokatat Brand WRIST (parts & labor)
To install these gaskets yourself, we recommend using AquaSeal FD Adhesive (sold separately and we only ship it via UPS Ground due to HazMat regulations, so you may want to buy it at your local sporting goods shop e.g. Dicks or Bass Pro or SCUBA dive shop). A 1oz tube of AquaSeal Adhesive is sufficient for replacing all gaskets on at least one suit. We highly recommend buying our Wrist Gasket Replacement Tool to make it easy to do a professional quality job when installing new gaskets. These tools are sold separately, use the "Continue Shopping" button to find them. See Wrist Gasket Replacement Tool
To be assured these gaskets will fit, flatten the wrist cuff on your drysuit or drytop and measure its width. If it is about 5.5" - 6.0" when flattened these wrist gaskets will fit.
There are five sizes of these wrist gaskets to choose from. Most men's small and women's small to medium size dry suits/tops use the Small size wrist gasket (unless you have big wrists for your size). Women's Large - XL drysuits and most men's Medium to XL size drysuits use the Large size wrist gasket. Men's XXL drysuits typically use the XL gasket (or XXL - XXXL if you have unusually big wrists)
If you are between gasket sizes, go with the smaller size and then loosen it. The gaskets are tapered, so you can loosen their fit by trimming material off the end. There is a cutting guide ring molded into the end of the gasket about 1/4" from the end to facilitate trimming. Make a straight cut by cutting parallel to this line. Trimming 1/4" off the small gasket makes it fit midway between S and L - this is the only way to get a "Medium" fitting wrist gasket.
Note to owners of Kokatat drysuits, Kokatat's wrist gaskets are only available in S and L sizes, these Universal wrist gaskets are available from S - XXXL. The universal S wrist gasket fits nearly the same as Kokatat's S but the universal L is about a half size bigger than Kokatat's L.
Sizing: (to measure wrist circumference, lightly wrap string or measuring tape around slimmest part of wrist -- don't pull tight)
S (up to 6.6" wrist)
L (6.6 - 7.3" wrist)
XL (7.3 - 7.8" wrist)
XXL (7.8 - 8.3" wrist)
XXXL (8.3" and up wrist)
Note our Universal Wrist Gaskets are sold individually. If you need a pair, set the quantity to 2.