product, true, false
Kokatat Latex Dry Sock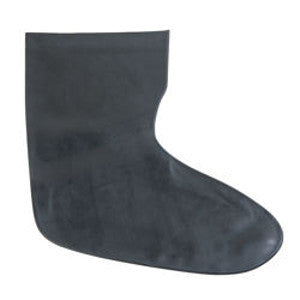 This Latex Dry Sock is the official factory replacement for all Kokatat brand dry suits, dry bibs, and dry pants with latex dry socks (call us for information about replacing waterproof/breathable drysocks such as Gore-Tex and Hydrus dry socks on Kokatat water sports dry-wear). Illustrated how-to instructions are included. These latex dry socks will work on most other brands of drysuits and dry pants, however, we also offer Universal Wrist Gaskets which fit better on other brands of dry-wear, are available in a wider range of sizes, and cost less. Use your browser's back arrow to view our Universal gaskets.
To have K.A. replace your latex dry sock(s), click Kokatat Ankle/Sock Gasket Replacement Service (Parts & Labor)
To install these Latex Dry Socks yourself, we recommend using AquaSeal FD Adhesive (sold separately and we only ship it via UPS Ground due to HazMat regulations, so you may want to buy it at your local sporting goods shop e.g. Dicks or Bass Pro or SCUBA dive shop). A 1oz tube of AquaSeal Adhesive is sufficient for replacing all gaskets on at least one suit. We highly recommend buying our Ankle Gasket/Latex Sock Replacement Tool to make it easy to do a professional quality job when installing new latex dry socks (the same tool works for both Ankle Gaskets and Latex Dry Socks). These tools are sold separately.
Note: If the original latex dry socks didn't fit your foot well, you can switch sizes - they all have the same width at the end where they glue onto the pant leg. Our Universal Latex Dry Socks include a smaller foot size than Kokatat offers, and they fit Kokatat brand drysuits, dry bibs, and dry pants in addition to other brands of watersports dry-wear.
Note Kokatat Latex Dry Socks are sold individually. If you need a pair, set the quantity to 2.
Kokatat latex dry socks come in three sizes:
1 or Small (Men's shoe size 5-7, Women's shoe size 6-8)
2 or Medium (Men's shoe size 7.5-11, Women's shoe size 8.5-12)
3 or Large (Men's shoe size 11.5-13, Women's shoe size 12.5-14)