Kokatat Neck Gasket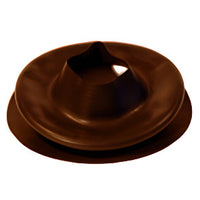 Latex Neck Gasket for Kokatat Drysuits and Dry Tops
Available in S or L
Neck Sizes (measure around your neck, do NOT cinch tight):
Small: 11"-13"
Large: 13"-19" (for 15.5" and larger neck we recommend trimming to fit)
Installation instructions are included.
To have K.A. replace your neck gasket, go to Kokatat Neck Gasket Replacement Parts & Labor
To install these gaskets yourself, we recommend using AquaSeal FD Adhesive (sold separately and we only ship it via UPS Ground due to HazMat regulations, so you may want to buy it at your local sporting goods shop e.g. Dicks or Bass Pro or SCUBA dive shop). A 1oz. tube of AquaSeal Adhesive is sufficient for replacing all gaskets on at least one suit. We highly recommend buying our Neck Gasket Replacement Tool to make it easy to do a professional quality job when installing new neck gaskets. There's no need to fuss with traffic cones or soccer balls, the right tool for the job makes it is easy. These tools are sold separately, use the "Continue Shopping" button to find them. See Neck Gasket Replacement Tool
Kokatat's neck gaskets only come in two sizes: Large and Small (and the "Large" isn't very large). The Large neck gasket is standard on all drysuits and dry tops from Medium on up (both for Men's and Women's sizes). If the original gasket was a Large and it was too loose on your neck even when new, you can replace it with a Small gasket; if the original gasket was a Small and it was too tight, you can replace it with a Large gasket. If the Large gasket was too small (which is quite common on men's L or bigger suits as well as women's L and bigger), you can trim some rings off the top of the gasket to loosen it or try one of our Universal Neck Gaskets which come in a wider range of sizes.