Suspenders & Attachment Tabs Added To Kokatat Goretex Dry Suit PARTS & LABOR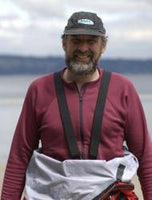 Suspenders & Attachment Tabs Added To Kokatat Goretex Dry Suit PARTS & LABOR
Description
(Kokatat brand GoreTex 1-Piece Suits Only)***
K.A. can retro-fit the factory option for internal suspenders on Kokatat GoreTex One-Piece Dry Suits. Suspenders will keep your drysuit from dragging on the ground when walking with the top open and sleeves tied around your waist (a bigger issue for men than women). Get suspenders added and you'll be able to carry kayaks etc. without your pants falling down to your ankles. Suspenders are great for camping, loading boats, and lunch time. When zipped up and paddling you won't even notice they are there.
Our Suspenders w/ Parts & Labor includes: Elastic Suspenders with Velcro length adjustment and attachment, front and back Suspender Attachment patches with loops, and labor to install.
Shipping/Drop Off Instructions
Be sure to wash your dry suit with soap and allow to dry before sending it to us. Health codes require that all garments returned for retrofitting must be laundered. Please wash your garment before sending to K.A. for repairs. There will be a $25 charge for unwashed items. When using a front loading washing machine, use a small amount of liquid detergent, cold wash setting and hang to dry. For washing machines with an agitator; use gentle cycle, a minimal amount of liquid laundry detergent, double rinse and hang to dry.