Wrist Savers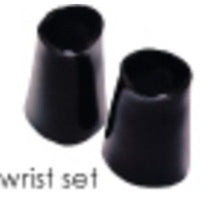 Description
Wrist Savers are like a second layer of skin between your wrists and the gaskets on your dry suit or dry top. Wrist savers can be used to help tighten leaky gaskets, and yet they spread the pressure from gaskets over a greater surface area which makes gaskets feel more comfortable. Wrist Savers are latex free and we've found them helpful for people with latex allergies because when you're wearing a Wrist Saver the latex gasket doesn't need to touch your skin. For people with latex allergies or loose fitting gaskets, we also sell Neck Savers.
Installing a Wrist Saver is easy. Simply suit up in your usual manner, slide or roll your wrist gasket up your arm a bit, pull the Wrist Saver over your hand and place it flat against your wrist, and then stretch the gasket over the Wrist Saver and you're ready to play in the water.
Sizes
Wrist Savers are sold in pairs and one size fits all -- they are super stretchy.