product, true, false
Universal Neck Gasket for Dry Suits and Dry Tops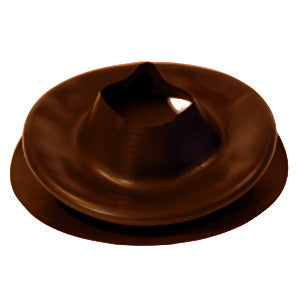 Universal Drysuit Neck Gaskets work on MOST brands of dry suits including Kokatat (but we also sell Kokatat gaskets). Installation instructions are included. We offer these Universal Neck Gaskets in a choice of "Standard" or "Heavy Duty" thicknesses and a wide range of neck sizes. These gaskets last as long as any other brand we've tested and yet they are bargain priced making them the best deal for drysuit gaskets.
For most uses, we find the Standard thickness gaskets last just as long as Heavy Duty gaskets, but some people prefer the extra stiffness of a Heavy Duty neck gasket. If chemical breakdown is shortening your gasket's life, a Heavy Duty gasket may last a bit longer. Heavy Duty neck gaskets cost $10.00 more than standard ones. Because thicker gaskets are stiffer, Heavy Duty gaskets feel tighter. So if ordering a Heavy Duty gasket, we recommend going up one size larger than the Standard Duty gasket for you neck size.
To have K.A. replace your neck gasket, go to Gasket Replacement Parts & Labor
To install these gaskets yourself, we recommend using AquaSeal FD Adhesive (sold separately and we only ship it via UPS Ground due to HazMat regulations, so you may want to buy it at your local sporting goods shop e.g. Dicks or Bass Pro or SCUBA dive shop). A 1oz. tube of AquaSeal Adhesive is sufficient for replacing all gaskets on at least one suit. We highly recommend buying our Neck Gasket Replacement Tool to make it easy to do a professional quality job when installing new neck gaskets. There's no need to fuss with traffic cones or soccer balls, the right tool for the job makes it is easy. These tools are sold separately, use the "Continue Shopping" button to find them. See Neck Gasket Replacement Tool
For brands of dry suits and dry tops other than Kokatat, measure the dimensions of the old seals in the following manner: flatten the neck out so as to form a circle, then measure the outside diameter of the latex gasket (the crosswise dimension, not the circumference around the edge) to the outer edge of the gasket flange where it is glued to the suit (not the inside edge of the fabric). These Universal Neck Gaskets fit dry suits and dry tops with about 9.5"-10" diameter outer flange. If your neck gasket is significantly different, call us with these dimensions and we will try to find something that works for your suit. We stock a lot of weird gaskets, but it's so rare that a suit needs them that we don't bother listing them on our Website.
Note: The neck gaskets on Kokatat drysuits and drytops have a smaller base flange (about 9.5") than most other brands, so if you use these universal neck gaskets on Kokatat brand gear these gaskets will overhang the original gasket's base flange by about 1/8" all around. When using these universal neck gaskets on Kokatat gear, we recommend trimming about an 1/8 inch off the outside of the gasket's base flange before gluing it on. Use scissors to do this trimming. If the original gasket didn't fit your neck well, it is worth trying these universal gaskets because they are available in a wider range of sizes. Kokatat's neck gaskets only come in two neck sizes: L and S (and the L isn't very large).
Gaskets (measure around your neck, do NOT cinch tight), for Heavy Duty Neck Gaskets go one size larger:
XS Youth size suits (for children and women with really small neck)
S 11"-12.75" (typically fits most children 10 and up and most smallish women)
M 12.75"-16.5" (typically fits S - L women and S - M men)
L/XL 16.5"-18" (typically fits XL women and L- XXL men)Neck Sizes for Standard Duty 
XXL 18"+ (for XXL and larger men)
Universal Neck Gasket for Dry Suits and Dry Tops
Universal Neck Gasket for Dry Suits and Dry Tops
has a rating of
4.7
stars based on
15
reviews.