product, true, false
Tie-Down Loop Strap Bow or Stern 6'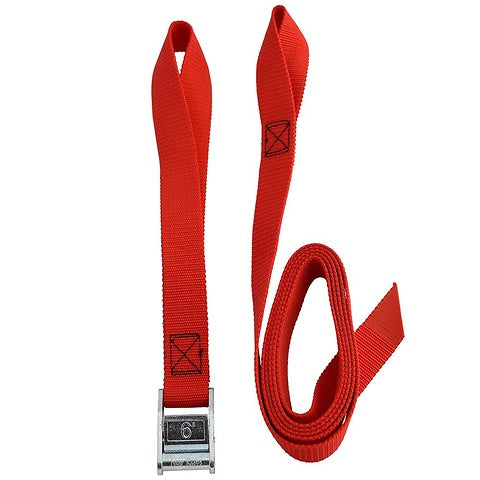 Tie-Down Loop Strap Bow or Stern 6'
6' Bow or Stern Tie Down Strap. In addition to tying your kayak to your roof-rack, always tie the ends of your kayak to the front and rear of your vehicle in case one of the other straps breaks or a buckle slips or your roof-rack detaches from the vehicle. Yes, it can happen and yes, it has happened to us. We've seen it all!
The price here is the price for a single strap. We recommend getting at least three: two for tying the bow of your kayak to the front of your vehicle, like and "A"-frame house, and one for tying the stern to the rear of your vehicle. If you are putting two kayaks on your vehicle you will purchase 4 straps. 2/Bow and 2/Stern.
Instructions: Hook one end to your vehicle and the other to the end of the kayak or a deck line near the stern if that gives a shorter more straight down pull. The two halves of the strap meet near the middle with a cam-lock buckle to snug it down. It doesn't get much simpler than that. Remember: don't attach these straps to any stretchy deck line! 
Tip: If your vehicle doesn't have a nice, easy place to tie the ends of your kayak to, see our "Hood Loops" and "Quick Loops" accessories.
Remember, buy a minimum of three of these straps to safely secure your boat.