EJ's (Eric Jackson) Rolling and Bracing, 2013 Ed. DVD, Sale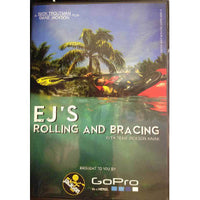 EJ's (Eric Jackson) Rolling and Bracing, 2013 Ed. DVD, Sale
Close-Out Sale, Limited to stock on-hand
Eric Jackson has a way with words that combined with his immense experience makes his "Rolling and Bracing" video the best practical "how-to roll" DVD we've found. Note this is the second rolling video EJ has produced. Besides the basics of "C"-to-"C" and lay-back sweep rolls, EJ covers ways to make your roll more bombproof for combat rolling. This video also includes an intro to bracing and the back deck roll.
Instructors will also benefit from watching this DVD as it has whole chapters on how to teach rolling from the instructor's perspective as well as how to learn the roll perspective of a student.
Even though EJ is a river kayaker, the concepts he teaches for rolling work equally well for sea kayaks. Kayak Academy gives this video a thumbs up for anyone wanting to improve their kayak roll!