product, true, false
EK 3-way Barrel Float Cat, floating eyewear retainer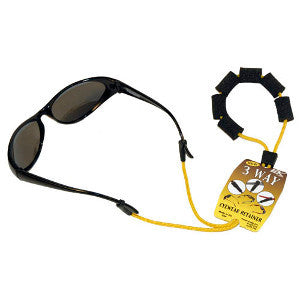 EK 3-way Barrel Float Cat, floating eyewear retainer
The EK 3-Way Cat w/Barrel Floats is the floating version of the EK 3-Way Cat eye glasses retainer. EK makes three sizes of their 3-Way eye-wear retainers, but the version with barrel floats is only available in the Med. and Large sizes (which EK calls "Thin" and "FAT"). The 3-Way Micro Cat is not available in a floating version. The 3-Way FAT Cat is for plastic frames with really wide bows, and the 3-Way Thin Cat fits most other frames (except really thin wire bows with no pads at the ears which need the Micro Cat).
As the name suggests you can attach the rubber end pieces on the 3-Way eye glass retainers to the bows on your glasses in your choice of three positions to get a comfortable angle and keep the retainers from sticking out. The rubber end pieces are unique because they have three holes in them which allow you to push the ends onto your glasses ear pieces in your choice of three angles. The rubber slider on the neck cord lets you cinch your glasses snug for action sports or when bending over the side of a boat.
To further make sure you don't lose your glasses even if they fly off or when rolling a kayak, this model has floats to keep your glasses from sinking.
Even if you don't wear prescription glasses, you don't want to loose your sunglasses.
Size:
Thin (Standard size, fits most frames)
FAT (Fits plastic framed glasses with wide ear piece bows)
Color: Black cord with Yellow floats (reverse of the image here)