product, true, false
Pyranha Ripper 2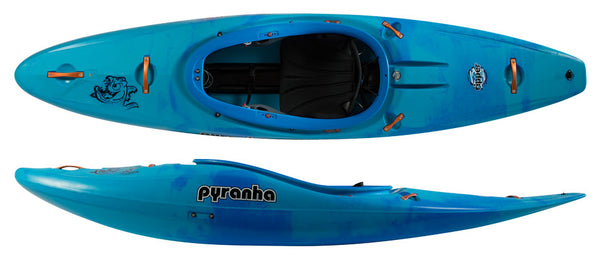 Introduction
The Ripper 2 is the second gen. of this series became available in 2022/2023. It takes the #FastIsFun ethos introduced by the 9R, and combines it with a playful slicy stern for an extra dose of adrenaline.
Available in 3 sizes (S, M and L), there is a Ripper 2 for almost every size paddler. Please check the specs tab to see which size fits you best.
Description
Standout features of the design are generous bow rocker for a drier ride, a highly surfable, supremely maneuverable planing hull, maximum waterline for exceptional downriver speed and easy attainments, plus the security of a full plate footrest and a complete array of security points and handles.
With enough volume to take on all your favorite runs, in the Ripper you'll be stern squirting out of eddies, dip turning around rocks, and soul surfing every wave... after all, kayaking is meant to be fun!
Please call for info about additional colors.
Specs
These are the old specs for the original Ripper
To see more specs, scroll table to the right
MODEL
L
E
N
G
T
H
W
I
D
T
H
H
E
I
G
H
T
V
O
L
U
M
E
Weight
(advertised)
P
A
D
D
L
E
R

H
T
P
A
D
D
L
E
R

W
T
F
E
A
T
U
R
E
S
Ripper S
8"11"
(271.8 cm)
23"
(58.4 cm)
N/A
57gal./216l
44 lbs
(20 kg)
N/A
88 - 165 lbs
(40 - 75 kg)
Stout 2 Outfitting
Ripper M
9'0"
(274.3 cm)
24.5"
(62.2 cm)
" "
62gal./235l

44 lbs
(20 kg)
6'2"

143-198
(65 - 90 kg)
" "
Ripper L
9'0"
(274.3 cm)
26"
(66 cm)
" "
72gal./271l
46 lbs
(20.9 kg)
N/A

N/A

 " "
SPECIAL SHIPPING REQUIRED
Kayaks are excluded from our free shipping policy. River kayaks are expensive to ship and prone to being damaged. We recommend picking them up at our shop. If needed, we can provide information for you to arrange your own FOB shipping.